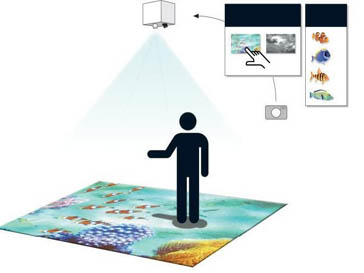 How does it work ?
Different types of captors locate the movements occurring in a defined area, which happens to be the projected image (be it on floors, walls, or even ceilings or furniture). The system uses its "vision" of the different interactions identified, regardless if they are initiated by the foot, hand or any other item or body part, and makes them interact with effects and images previously loaded (water, animals, balls, leaves, etc…)
Your contents, i.e your own images or videos, are then easily integrated as back and/or foregrounds or even as a custom effect !
That's all, you are ready to roll and amaze your audience or visitors !
Click here to download a detailed documentation
Living Surface is also available in renting, several packages can be used, feel free to contact us in order to evaluate the more accurate.